An exclusive art gallery on Madison Avenue was abuzz tonight as members of the media mixed with New York's social influencers. GNF unveiled the six Jean-Michel Basquiat Limited-Edition bottles of Special Edition 1800 Tequila.
Jean-Michel Basquiat is one of the best known artists of his generation and is widely considered one of the most important artists of the 20th century. The Basquiat brand embodies the values and aspirations of young, international urban culture. His career in art spanned the late 1970's through the 1980's until his death in 1988 at the age of 27.
Guests at our event were met on the street with a life-size nine-and-a-half foot tall exact replica of the 1800 Tequila bottle featuring one of the Basquiat works.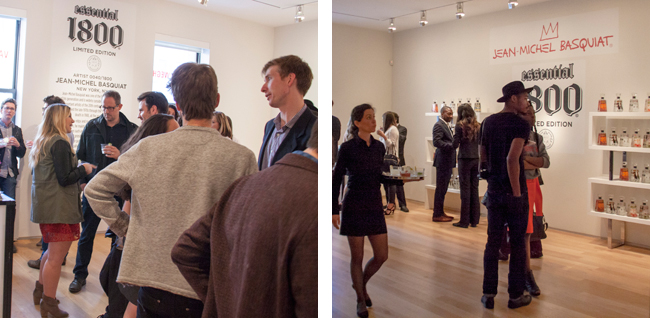 Upon entering the art gallery, guests were able to view the bottle art installation featuring a wall display of all six of the the Jean-Michel Basquiat 1800 Tequila Limited-Edition bottle designs. Guests sipped on 1800 Tequila specialty cocktails while music and a Jean-Michel Basquiat documentary played.
The highlight of the evening was the private gallery area which showcased 3 original pieces of artwork by Jean-Michel Basquiat. GNF secured the rare multi-million dollar original artwork from the private collection of a world-renowned art dealer. No photos of the original artwork were allowed, so if you'd like to see them, get your checkbook out and be prepared to write at least 7 digits.
You can, however, see the life-size Limited-Edition 1800 Tequila bottles GNF created featuring the Jean-Michel Basquiat artwork as we take them on the road for the month of May displaying them on weekends throughout the NYC Meatpacking District.